At The Bridge, elders, leadership, and staff members seek to lead our church family in making much of Jesus in our homes, neighborhoods, city, nation, and world, We do so humbly and simply, in constant awe of the way God has invited us into building His kingdom on earth. We desire to be Christ-centered, Spirit-led, prayerful, and grace-filled, focused on the Word of God as we build Gospel-centered community and engage our city and world with the life-transforming hope found in Jesus.
I was born in Alton and grew up in Godfrey. Growing up in church, I sensed God's love and purpose from my earliest moments. From preschool through fifth grade, I attended Evangelical Elementary School in Godfrey. I graduated from Alton High School in 1997 and attended Ouachita Baptist University in Arkadelphia, Arkansas. While in college, God's love gripped me and convinced me that there is nothing else I'd rather do than to make much of Jesus and point others to Him. I sensed that my call to ministry would lead me away from Alton/Godfrey, never to return. God has a sense of humor!
After my sophomore year of college, I returned home for summer vacation where I was blessed to be the Assistant Swim Team Coach at Summers-Port pool. I also served as a Youth Intern at Calvary Baptist Church in Alton. During that summer I met a girl named Daria Staszkiewicz, a native of Poland, who was visiting family in Godfrey. Her name is now Daria Helfrich! We married on October 27, 2001, and made the Alton/Godfrey area our home. In July of 2005, we purchased my childhood home from my parents, and on January 22, 2008, God blessed us with twins! Benny and Sophie are now students at Evangelical. They are very energetic, and let's just say there is never a dull moment at the Helfrich house! I have an amazing family!
The summer after I graduated from college, Otterville Baptist Church called me to be their pastor. I attended Covenant Theological Seminary in St. Louis during the first four years. God taught me so much during my almost eleven year pastorate there, and I will be forever grateful for the love, prayers and support of the congregation.
In the Fall of 2006, Evangelical, the same elementary school I attended as a boy, hired me as their Religion teacher. It is so much fun to watch the Bible come to life for children! Teaching children reminds me of my need to have faith like a child!
So I never really "ran away from my roots" even though I tried. Instead of leaving, I live in my childhood home, and I teach religion at the grade school I attended and where my children now go. Many people in this area deeply impacted my life. It is my prayer that as pastor of The Bridge, I will serve the community that gave so much to me!
In my free time, I enjoy swimming, Ultimate Frisbee, Cardinals baseball, hiking, traveling, reading, good conversation with friends and family and a good cup of coffee.
I invite you to check out The Bridge!
Jon Davis, Associate Pastor
I was drawn to saving faith in Jesus as a young man and He continues to win my devotion each new moment. That relationship is my greatest contentment and leads me to find ultimate joy in God's purpose for every area of my life.
Notably, I love my wife, Kim, and enjoy taking walks and adventures alongside her. We married just before I entered active duty Air Force where I served as a firefighter. I'm a major movie buff and sucker for a good cup of coffee and genuine conversations. Large chunks of my time are spent coaching my son's baseball/basketball teams and I enjoy being able to invest in the lives of those young men and the others that help alongside me.
I began pastoral ministry in Harrisburg, Illinois (1998) and graduated from Southern Baptist Theological Seminary (2004). Over time, I've observed the post-Christian shift of younger adult generations becoming disenfranchised with the church as they've known it. Soon after Seminary, I sensed a call to new work dedicated to throwing off unnecessary and hindering church expectations in order to get real and get to work ministering the gospel. Among un-churched people, I can often sense a desperate desire for the good news of God's gracious work through His Son and Spirit. I still relate to trying so often to fill that deeper desire for knowing God with so many lesser things.
From a relational viewpoint, I know that we, church people, have to find ways to get out from behind our walls and engage un-churched people with the hope we have in Christ. From a pastoral viewpoint, I consider some areas of reform deeply entrenched in our familiar church traditions and resolution for me has been to help start new churches with a missional mindset.
We moved to this area in 2006 from Harrisburg so I could join the firefighter ranks for the City of Alton. Soon after, Kim was hired as an early childhood teacher for the local school district. Since our arrival, we have given our attention and efforts to several missional church plants in the metro east always looking forward to partnering with one in Alton. We came alongside our daughter, Andi, and son, Dre, to partner in ministry with The Bridge back in its earliest stages. As we look back over our time with these people, we can see so many witnesses of God's power and encouragement that leads us to praise Jesus all the more. I'm humbled when I think how my family has been refreshed by God's hand in the support of so many people through our church and surrounding community over the years.
I consider it a sacred privilege each new day to partner with my brothers and sisters of The Bridge to minister the gospel of Jesus within our church and the Riverbend area that we all call "home".
1. Why are you at The Bridge?
My wife and I joined our son Steven and his wife Daria as part of the core group responding to God's planting of the Bridge. We identify with the mission of the Bridge - Connecting people to God's indelible grace by loving them and pointing them to Jesus. We are blessed to see God working through our son and so many others at the Bridge as He draws people of all ages and backgrounds to His Son Jesus.
2. What do you love most about the Alton community?
I love the people, the history and the scenery. The people are friendly and quick to help one another. My wife Kay is an Illinois history teacher and has taught me (and many others) the importance of the Alton area in our history. If you want to know more about Alton, just ask Kay. The scenery unfolds around the Mississippi River as you first see this river city crossing the bridge and follow the scenic drive along the River Road, I think the bridge leading into Alton is one of the most beautiful bridges in the area especially at night when it is illuminated and it reminds me of the Bridge logo.
3. What is your favorite verse?
There are many from which to choose. One of my favorites is Matthew 6:33 which says - But seek first the kingdom of God and his righteousness, and all these things will added to you.
1. Why are you at The Bridge?
At The Bridge we try to keep things very simple - we sing the Gospel, we preach the Gospel, we read the Gospel and we study the Gospel - all things we do point to the good news that Jesus came to save us when we couldn't save ourselves - and that His indelible grace is the basis of our faith and our salvation. The Bridge is a body of believers who point to Jesus in everything that we do.
2. What do you love most about the Alton community?
Alton has been my home for over 50 years - born and raised here with all of its beauty and all of its warts! Alton is rich in history and its cultural diversity can be seen throughout the community - and while it may not be the fanciest or richest town in the area it has a quaintness and homeliness that makes it an enjoyable place to live. Alton is scenic in some places while unsightly in others; it's old in some places and new in others. Opportunity for leisure activities abounds and there are no shortage of events for those looking for community involvement. Alton is a great mix of the old and the new and the underlying faith community runs deep through her neighborhoods. As you come across the bridge into Alton you just get a feeling of security and contentment.
3. What is your favorite verse?
Ephesians 2:8-9 "For it is by grace you've been saved through faith - and it is not of yourselves, it is a gift from God - lest any man should boast." I love this verse because of what it reminds us - that our salvation is not up to us through our actions, but through our faith in Jesus Christ...and that it was designed that way so that man wouldn't take the credit nor try to gain a "better salvation" based on his actions. And let's not forget the grace that God offers us through the gift of His son - this verse hits on so many of the Christian foundations in just one sentence!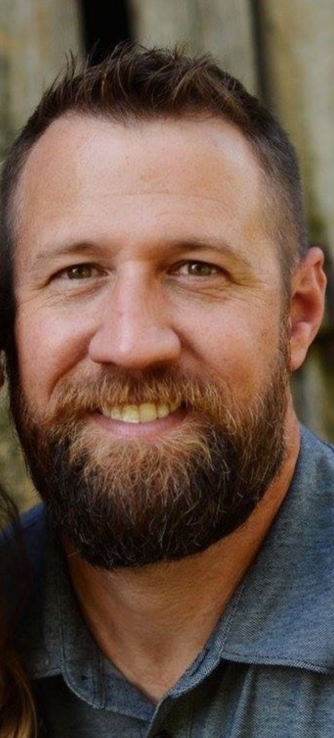 1. Why are you at The Bridge?
The Bridge family is where my family and I are able to connect with God's people and share the love of Christ Jesus with each other. God has blessed me in such an amazing way through the people of The Bridge. I've been prayed for, encouraged, and loved well by my brothers and sisters here. This is a body that is real and truly looks to Jesus in all things.
2. What do you love most about the Alton community?
Alton is an awesome city with a rich and beautiful history and has a diverse culture that I see God working in an amazing way, bringing His people together to Him. God is moving in an amazing way here and I love seeing God at work and want to be part of it.
3. What is your favorite verse?
Romans 5:6-8. "For while we were still weak, at the right time, Christ died for the ungodly. For one will scarcely die for a righteous person — though perhaps for a good person one would dare even to die — but God shows His love for us in that while we were still sinners, Christ died for us."
This is amazing grace and amazing love!
1. Why are you at The Bridge?
I Love watching what GOD is doing at the Bridge. It's his timetable, we are just the messengers.
2. What do you love most about the Alton community?
This is one of the most beautiful scenic areas ever. The River road scenic byway, the bluffs, the mighty Mississippi but I also love the people who live here in this beautiful area.
3. What is your favorite verse?
Favorite verse, John 1:1 "In the beginning was the Word, and the Word was with God, and the Word was God." Pure poetry!
Ministry Support Staff
The Bridge support staff play an integral role in the life of our church. Each person in a support role contributes toward our daily ministry in significant ways, and we are so thankful for how they serve!
Hope Mader - Church Office Administrator
Shawna Phelps - Church Custodian